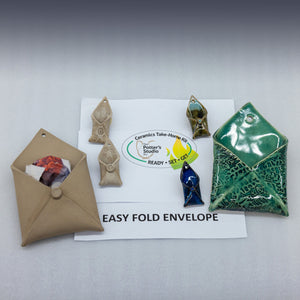 Make a home decoration ceramic project to hang on the wall, or for the desk to hold special cards and letters.  In the summer, hang outside to hold flowers. The kit provides enough clay to make 1 large envelope and 2 smaller ones, the latter for the holiday tree or as gift tags.  
 Kit Contents
1 ½ lb. of white clay
Wooden craft stick
Toothpicks
Detailed instructions with step-by-step drawings
 Other Useful Tools
For a work surface, an 11' x 11" piece of hard plastic; or an old pillowcase.
A yogurt or other container as your water bowl.
A sponge.
A knife for cutting the clay if you prefer not to use the toothpicks.
A rolling pin.