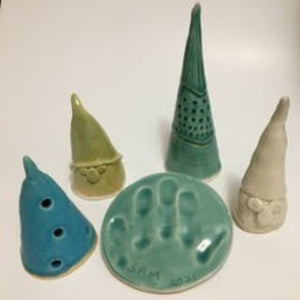 Make a gnome or fir tree to give as a gift or a treat for yourself.  Or use the clay to make an adorable keepsake ornament for a lasting impression....such as a child's handprint (a great gift for grandparents!), pet's paw or garden leaf.  These all-season ornaments are great on shelves or in plants, indoors or out.  They make great Christmas ornaments and a fun stocking stuffer.  Each kit provides enough material to make 4 conical objects about 8 to 10 cm tall (gnomes or fir trees) and 1 hand or paw print.
Kit Contents
1 lb. of white clay
Dowel roller
Toothpicks
Wooden craft sticks; large and medium
Small sponge
Piece of a plastic straw for making holes
Template for gnome and fir tree   
Detailed instructions
Other Useful Tools
For a work surface, an 8' x 11" piece of hard plastic or an old pillowcase
A yogurt or other container as your water bowl
Container top could also be used for cutting out circles for a keepsake ornament.