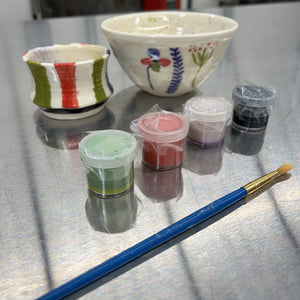 Our newest ceramic take-home kit allows you to paint pre-made bowls at home.  Congratulations! We are glad you have this opportunity to design and paint your bowls at home.This would be a great activity for the holidays, friends' get-together and more. These kits will also be available at our upcoming Fall Sale from November 16 through 19.
Kit Contents
2 bisqued white bowls:  a medium (11 cm diameter X 6 cm high) and a small (6 cm diameter X 5 cm high)
4 small containers of underglaze:  red, black, green and purple
1 paintbrush
 CAUTION: Only use underglazes provided by the studio.
Other Useful Tools
Use a sheet of hard plastic or newspaper for a work surface
Use a yogurt or other container as your water bowl, as well as a sponge for clean-up
Use a toothbrush for sprinkling underglaze on either the inside or outside of the bowls
Design ideas could be taken from pattern books, clip art, zen doodles, drawn on paper or just ideas in your head. Shapes from nature or animals work well.